AETE 2017- REPROBIOL
The 33rd AETE conference will take place in Bath, England, on September 8th and 9th. http://www.aete.eu/
As every year Reprobiol will be present and will be happy to welcome you there.
The object of the "ASSOCIATION OF EMBRYO TECHNOLOGY IN EUROPE" is to facilitate the diffusion and application of knowledge relative to embryo transfer in mammals by creating a forum for the exchange of scientific, technical and practical information at a European level and by organising regular meetings encouraging everyone to participate: teachers, scientists, practitioners, technicians and students.
Moreover the "ASSOCIATION OF EMBRYO TECHNOLOGY IN EUROPE" aims to establish European technological solidarity, favourable to international exchange of embryos, by creating study groups and by striving to become a body to whom European veterinary and agricultural authorities may make proposals, and seek consultation.

AETE 2016- REPROBIOL
Participation of REPROBIOL SPRL at the annual meeting of the ASSOCIATION of Transfert Embroyonaire this 09-10 September 2016 in Barcelona.( http://www.aete.eu/)
New building :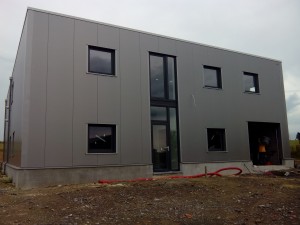 It is in the economic zoning of Ouffet that the pharmaceutical group Reprobiol has implemented the construction of its new infrastructures.
AETE 2015 – REPROBIOL
Participation of REPROBIOL SPRL at the annual meeting of the ASSOCIATION of Transfert Embroyonaire this 10-11 September 2015 in Gent  ( http://www.aete.eu/meetings.php)